10pcs GPS antenna Extension cable Fakra C female to female in blue RG174 100cm
Product Description
?
Description:
?
FAKRA Connectors and Cable Assemblies support applications that require a high-performing, reliable, and cost-effective RF connector. FAKRA connectors are standard SMB Connectors embedded within a special inter-locking plastic housing that uses multiple color-codes for easy identification and mating, and are designed to perform up to 4GHz at 50 |?.
?
Impedance

50 |?

connectors

One end: Fakra Jack "C" straight

?

Other end: Fakra "C" female straight

cable

RG174 default

Optional, RG316

Optional Length

1M (3 feet) default

?

Customizing Service is available ,welcome to contact us !
?
Application: GPS: Telematics or Navigation
?
Applications:
GPS antenna
car audio
GSM antenna
wireless equipments
Wireless Infrastructure

?
FAKRA connectors are utilized for automotive RF solutions and provide multiple colors and key codes for ease of final assembly
?
FAKRA connectors coaxial connections are used on devices with external antennas; such applications include SDARS, Cellular, GPS Navigation, key-less entry and satellite radio. The FAKRA connector provides a mechanical key feature along with a visual color code to differentiate between applications .FAKRA connectors with a high-temperature plastic shroud that is fully compatible with lead-free reflow processes are offered
?
The antenna with this Fakra Connector is compatible with:
VW RNS510 (MFD3);

VW MFD2 (RNS2);

SKODA COLUMBUS;

MERCEDES COMMAND SYSTEMS W211 (E-CLASS);

MERCEDES APS 50;

AUDI RNS-E (DVD NAVIGATION);

AUDI MMI (A6 4F, A8 4E);
?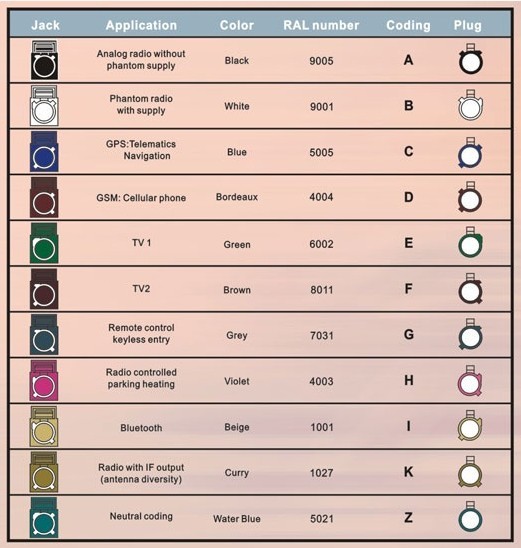 ?
?
Package included:
?
10pcs GPS antenna Extension cable Fakra C female to Fakra C female in blue pigtail RG174 100cm for GPS: Telematics or Navigation