NEW POE Power over Ethernet Power Supply Injector 48V 1A Express delivery!
POE (Power Over Ethernet) refers to the existing Ethernet cabling infrastructure Cat.5 do not make any alteration of the circumstances, for a number of IP-based terminals (such as IP telephones, wireless LAN access point AP , network cameras, etc.) to transmit data signals at the same time, but also for the provision of DC power supply such equipment technology. POE technology to ensure the safety of the existing structured cabling at the same time to ensure the normal operation of the existing network, minimizing costs.
POE is also known as the power supply system based on local area network (POL, Power over LAN) or Active Ethernet (Active Ethernet), sometimes referred to as Power over Ethernet, which is using the existing transmission standard Ethernet cable At the same time, the transmission of data and electrical power of the latest standards, and maintained with the existing Ethernet system and user compatibility. IEEE 802.3af Power over Ethernet standard is based on the new standard for POE system, which based on the IEEE 802.3 an increase of direct power supply cable through the relevant standards, is an extension of the existing Ethernet standards, is the first of a international standards for power distribution.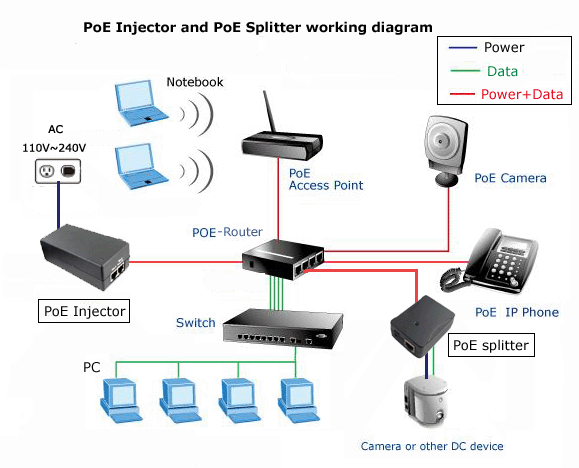 Product Specifications:
Input Voltage: AC 100-240V

Output Voltage: DC48V

Output Current: 1000MA

Output Ripple: 0.01

Line Regulation: +/- 1%

Load Regulation: +/- 2%

Cab Connector A: 1 x 10/100 RJ45

Cab Connector B: 1 x 10/100 RJ45

Operating Tempature: -40???C to +55???C

POE Voltage: 48V

WEIGHT: 2350g
Package including:
1 X PoE Injector 48V 1000mA
1 X Power cable
Note:
USA plug(flat pins)
Europe plug(round pins)
Australia plugs
UK 3 pins plug are available
please specify the plugs you need when you paypal us.
Related Products