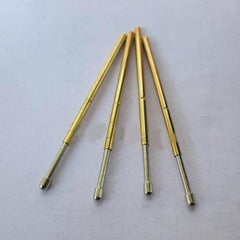 10X Radius Tip Spring Loaded Pogo Pin Dia.1.5mm Electrical Probe JTAG 1.7mm New
Product Description
?
?
Introduction:

----Produced to test many electrical items, like in-circuit programming for microcontrollers, JTAG.?

----Found in automatic test equipment in the form of a bed of nails and or in matched-impedance circuits

----To establish more permanent connections, like in the Cray 2 computer

Product Type: P160-D2

Mechanical Info:?

Tip Shape: Dadius Tip

Head Diameter: 1.5mm

Barrel Diameter: 1.36mm

Overall Length:? 24.5mm

Mounting Hole Size: 1.7mm

Weight: 5g

Mini Test Pitch: 2.54mm

Electrical Info:?

Rated Current: 3A?

Contact Resistance: 50m|?

Contact Spring Force: 140g

?Material Info:

Tip & Plunger: Phosphor Copper Nickel Plated or Beryllium Copper(SK4)Cold (Rhodium) Plated?

Barrel: Gold Plated Phosphor Copper

Spring: Stainless Steel Wire

Package Content: 10PCS Spring Pogo Pin
?
?
Package included:

10pcs P160-D2 Spring Loaded Pogo Hemispheric Radius Tip for CP JTAG Test Probe 1.7mm Mount