Superbat 3ft GPS Antenna Fakra G female to female pigtail RG174 cable for Remote control
AC-F03GSJ-F03GSJ-174-100
Product Description
FAKRA connectors are utilized for automotive RF solutions and provide multiple colors and key codes for ease of final assembly
Description:
FAKRA Connectors and Cable Assemblies support applications that require a high-performing, reliable, and cost-effective RF connector. FAKRA connectors are standard SMB Connectors embedded within a special inter-locking plastic housing that uses multiple color-codes for easy identification and mating, and are designed to perform up to 4GHz at 50 |?.
Impedance

50 Ω


connectors

One end: Fakra Jack "G" straight

Other end:Fakra Female "G" straight

cable

RG174 default

Optional, RG316

Optional Length

100cm (3 feet) default

Customizing Service is available ,welcome to contact us !
Apply to: Remote control keyless entry
Applications:
GPS antenna
car audio
GSM antenna
wireless equipments
Wireless Infrastructure
FAKRA connectors are utilized for automotive RF solutions and provide multiple colors and key codes for ease of final assembly
FAKRA connectors coaxial connections are used on devices with external antennas; such applications include SDARS, Cellular, GPS Navigation, key-less entry and satellite radio. The FAKRA connector provides a mechanical key feature along with a visual color code to differentiate between applications .FAKRA connectors with a high-temperature plastic shroud that is fully compatible with lead-free reflow processes are offered
The antenna with this Fakra Connector is compatible with:
VW RNS510 (MFD3);

VW MFD2 (RNS2);

SKODA COLUMBUS;

MERCEDES COMMAND SYSTEMS W211 (E-CLASS);

MERCEDES APS 50;

AUDI RNS-E (DVD NAVIGATION);

AUDI MMI (A6 4F, A8 4E);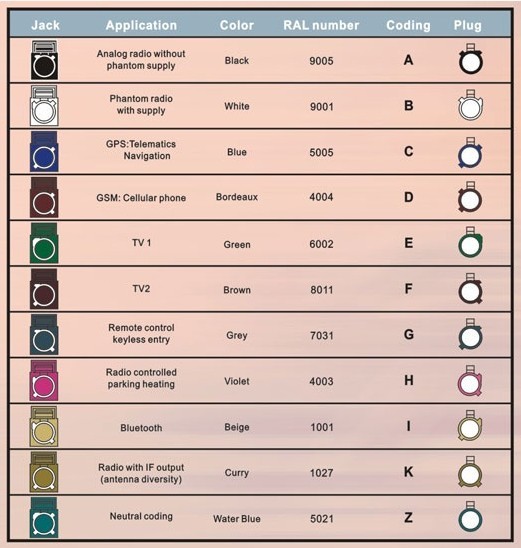 Package included:
1pcs Fakra female Jack straight to Fakra Jack female straight pigtail cable RG174 "G" 1M for Remote control keyless entry
Related Products