3DBi 850-2100MHz 3G Omni antenna TNC male plug for HUAWEI 3G&4G wireless Router
3A2-2625-T01SP-030
Product Description
High Quality 3G 3dB TNC Antenna can be taken apart
 Install by simply unscrewing your current antenna, and attach this antenna in its place
There are no drivers to install, and no modifications to your setup are necessary.
Please check if the connector does fit your router before bid
 This 850-2100Mhz antenna features a tilt-and-swivel TNC male connector, allowing them to be used vertically,at a right angle, or any angle in-between. It is suitable as a replacement RF antenna for many access points and radios that are equipped with TNC male connectors including mobile, 3G/4G wireless pay phone, fixed commercial phone, PCMCIA card, navigation device, vehicle wireless device,3G/4G Router¡ê?3G/4G USB MODEMS and devices etc.
Product feature:
3G Antenna 3DBi For HUAWEI 3G&4G Router
Easy Installation and Configuration.
Specification:
Frequency range :

850-2100 MHz

VSWR< 1.5 : 1 max
Gain:

3dBi

Impedance 50 Ohm
Polarization Linear Vertical

Omnidirectional Antenna

Polarization Vertical
Diameter: 13.5mm
With

TNC plug (male pin)

Notes:The default connector of the antenna is TNC male ,if you choose CRC9,TS9,MCX,MS147,MC-Card,SMA ,SSMB connector for antenna connector ,a adapter or pigtail will be needed with this antenna to fit with your GSM/3G devices .

Colour: black

Working Temperature : -20~+55 deg C
Please kindly note:

This antenna has the 3G frequency of: 850-2100 MHz
Some countries,such as UK,Canada,France,Germany
have the broad frequency including 2600Mhz for 4G,
If you want the antenna to work at 4G,please double check your local frequency.

4G frequency for reference:
UK:
LTE 800, LTE 1800, LTE 2600
Brazil:
LTE 2600
Canada:
LTE 1700, LTE 2100, LTE 2600
Denmark:
LTE 800, LTE 1800, LTE 2600
France:
LTE 800, LTE 2600
Germany:
LTE 800, LTE 1800, LTE 2600
Italy:
LTE 800, LTE 1800, LTE 2600
Sweden:
LTE 800, LTE 900, LTE 1800, LTE 2600
Russia:
LTE 2600
NETHERLANDS:
LTE 800, 1800, 2600

The connectors / adapters we can offer you:
look other 3G antennas we have here: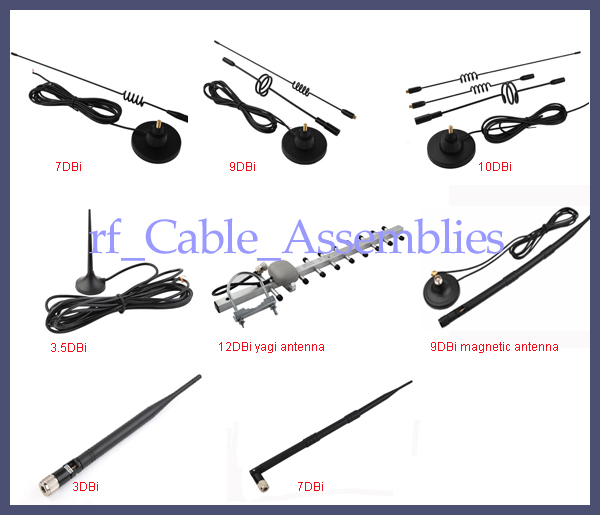 Package included:
1pc 850-2100MHz 3G Omnidirectional Antenna 3dBi TNC plug for 3G&4G wireless Router
Related Products