3G 12DBi antenna MCX-Male plug right angle for Ericcson W30/W35 Data Router
3A1-1273-M03RA-120-250
Description:
High Quality 3G 12dB Booster Antenna
Magnetic Stand design for easy to install on window side or top of the ceiling to gain more signals
Install by simply unscrewing your current antenna, and attach this High Gain antenna in its place.
There are no drivers to install, and no modifications to your setup are necessary.
Please check if the connector does fit your Device before bid!
Specification:
Frequency Range(MHz)

850-960/1710-2170

GSM/GPRS/EDGE

850/900/1800/1900MHz

HSUPA/HSDPA/UMTS

2100MHz/900MHz

CDMA

1900 MHz

VSWR ?¨¹1.5
Gain:

12dbi

Max Input power(W): 60
Input Impedance(|?): 50
Polarization Type: Vertical
Antenna Length(mm): 430
Cable Length(mm):

2.5M

Cable Type:

RG174

default
Connector Type:

MCX plug right angle

as default, SSMB/SMA/TS9/CRC9/MMCX/FME/BNC/TNC/SMB/MC-Card/MS-147..and so on ,please give us notes if the connector is chosen!
Mounting: Magnetic
Housing: Black
Weight:178g
Storage Temperature: -45'c to +75'c
Operating Temperature: -45'c to+75'c
Base Mounting Connector:SMA connector
Instructions:
Power off wireless device
Plug connector into antenna port on wireless device
Power on wireless device
For best performance place antenna as close to exterior window as possible
Installation Tips:
Antenna should be mounted vertically to maximize performance
Antenna should not be mounted against metal

 

The connectors / adapters we can offer you:
look other 3G antennas we have here: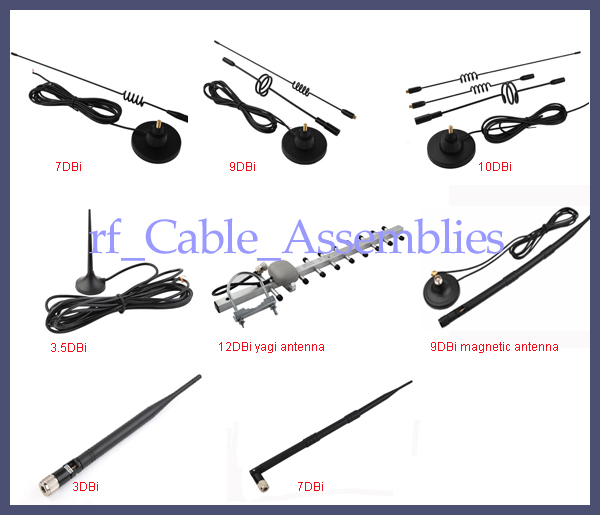 Package included:
1pc 12DBi 850/1900/900/1800/2100Mhz GSM/UMTS/HSPA/CDMA/3G antenna MCX for 3G UDB Modems/Routers/Devices
Related Products